We operate two charter vessels which provides greater flexibility and allows us to accommodate differing schedules and or larger parties.  Both vessels offer heated cabins and bathroom facilities on board.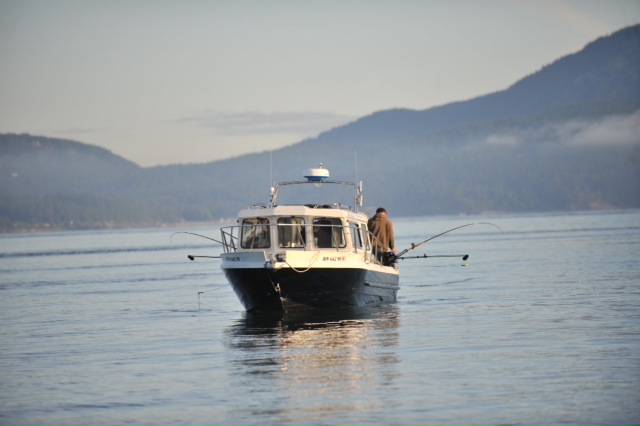 Morning trips

depart at first light and last 8 hours.
Afternoon trips

depart no later than 2:30pm and return at 8:30pm.
Coho trips

begin in late August and last 4 hours.

Rates:
Morning 8 hour trip

$175

(6 person maximum)

Afternoon 6 hour trip

$150

(3 person minimum)
Coho(silver) 4 hour trip

$125

(4 person maximum)
10%

discount for active duty military and their dependents or those with a retired military ID card.
One day fishing licenses can be purchased from us for

$10.65.

This rate applies to both resident and non-resident alike.
We take a minimum of 2 guests and a maximum of 6. 

When 4 or more guests are booked from the same party we guarantee a private charter.
(Please note that under any situation, all booked guests pay the full rate regardless the number in the party, their age, or desire to fish).
Singles will be added to an existing charter.

So for you guys or gals who like to fish but can't find friends or family to come along, give us a shout and we'll likely fit you in. As a note, we can usually put together a party of at least three using singles who desire to book as well, so don't hesitate to call if there are only two of you for an afternoon trip. 

We do offer inter-island service.

The location we are currently fishing will determine the pick up and drop off fee.  Please call as we can arrange pick-ups at most docks within the Islands.
We will fillet and bag your fish

and, if you're an out-of-area customer, I'll help you arrange to have your catch professionally packaged, frozen and shipped to your home.  You can even request all or part of your salmon be smoked. Please inquire about this service!
To guarantee your reservation, Highliner Charters will make a credit card charge for 50%, including tax, of the total cost.
To change a reservation, please call as soon as possible so I can do my best to reschedule you.
To cancel a reservation, call at least 14 days prior

to the trips scheduled departure time.  A cancellation under 14 days will result in forfeit of your deposit unless I can fill the vacancy. (All cancellations are subject to a $10 cancellation processing fee).
Any

"no-shows"

on the day of the charter will result in a full charge to the credit card which held the reservation.
We will take full payment following the trip. 

Cash, Visa or Master cards only.
We 

DO NOT

take checks, Discover, or American Express.
Highliner Charters donates 10% of its after-tax profits to Rice Bowl Ministries.
Visit them at:   Rice Bowl Ministries